by Nia Griffiths
Alex Oxlade-Chamberlain took part in a question and answer session recently and revealed his ambition to become Arsenal's fastest player.
The midfielder claims that when the team has a sprint test in the coming weeks, he'll be aiming to strip Hector Bellerin of his title. The defender is said to be the fastest in the squad – ahead of Theo Walcott – and even rumoured to be as fast as Olympic gold medalist Usain Bolt. A fact which the Ox denies is true.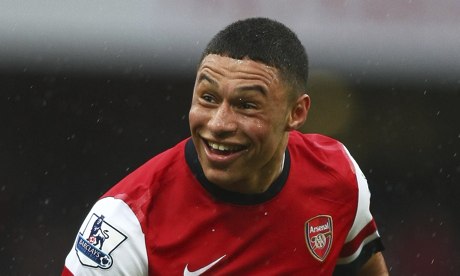 "We're all very close," he said. "You can't even blink but Hector won last time we raced. Hector's a quick lad but he's definitely not as quick as Usain Bolt! We've got another sprint test coming up and I will be looking to knock his record off."
In terms of other aims for the next season, he mentioned, "It will be nice to stay clear of injury this year, give me as much chance to have the best possible season as I can. Obviously I want to play as many games as possible, score more goals this year and get more assists. It's as simple as that really."
The 21-year-old also spoke about the upcoming pre-season tour of Asia where Arsenal are scheduled to take part in the Barclays Asia Trophy, along with Everton and Stoke City. Speaking about the first destination, Singapore, he said, "I know that it's a very modern city, it's clean. I've heard that people are very friendly there. It's very hot, humid. It's a very nice place, I'm looking forward to going."
When asked about his footballing hero, the Ox revealed an Arsenal legend as his, saying, "Henry. It definitely has to be Thierry, he's the man. He's scored more goals for Arsenal than most people have scored in their whole life at any level. The way he scores his goals, all types of different goals. He's just a massive character, a massive face of the game. He was my idol growing up so he's definitely my favourite legend."
On his best goal, the midfielder said, "It was the goal for England, against Brazil. I had just come off the bench, 1-0 down, to get us back into the game and score a goal. In a place like that, against a country like Brazil, it's a big achievement. I think that's probably my favourite."
Finally, onto the hard-hitting information: who has the worst hair?
"The worst haircut in the team is definitely not me! It's a tough one. No one has got an outrageously bad haircut. Per [Mertesacker] could be up there, serious lack of hair product. He's got to try something. He had to let go of his curls. That had to come off.
"Gabriel's is a little bit suspect. Rosicky does the rocker thing and my Mum says he's beautiful so he must be doing it right. Everyone's hair game is alright. There's a lack of effort on Francis Coquelin's part, not fresh enough from me. We need more haircuts from Francis, more trim needed."
Well now we can all rest easy.