by Nia Griffiths
Aaron Ramsey spoke to The Sport Review recently and revealed that he wants to score into double figures next season.
The midfielder also spoke about Arsenal's progress last season and their chances of silverware next year. He explained that after the last couple of FA Cup wins, he's become hungry for silverware. This is something that a lot of the players have said – once you start winning, you just want to success more and more.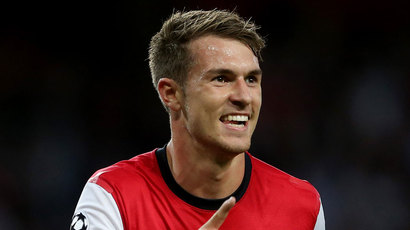 Talking about last season, Ramsey said, "I think the stability of the team has really improved in the last few years and you can see that on the pitch now," said Ramsey, speaking at a New Balance Football event in central London on Wednesday. Obviously we've won a few things now and so we're hungrier to go on and win more things."
On how we can go forward, the Welshman admitted, "It's just a case of trying to keep everyone fit throughout the season and I'm sure we'll give it a really good go this year."
Finally, he added, "I'd like to get into double figures again in terms of goals."
Last season, Ramsey did score 10 goals but one of these came in the Community Shield against Manchester City, which he's obviously not counting. The season before that though, he scored 16, which I'm sure he'll be aiming towards come August.
Unfortunately, injuries tainted the midfielder's 2014/15 season but he finished strongly and will be ready to hit the ground running when he returns to training.