The Sun are running an EXCLUSIVE in which they claim Jose Mourinho has demanded either Theo Walcott or Alex Oxlade-Chamberlain in return for letting us have Petr Cech.
Excuse me a moment.
Hahahahahahahahahahahahahahahahahahahahahahahahahahahahahahahahahahahahahahahahahahahahahahahahahahahahahahahahahahahahahahahahahahahahahahahahahahahahahahahahahahahahahahahahahahahahahahahahahahahahahahahahahahahahahahahahahahahahahahahahahahahahahahahahahahahahahahahahahahahahahahahahahahahahahahahahahahahahahahahahahahahahahahahahahahahahahahahahahahahahahahahahahahahahahahahahahahahahahahahahahahahahahahahahahahahahahahahahahahahahahaha.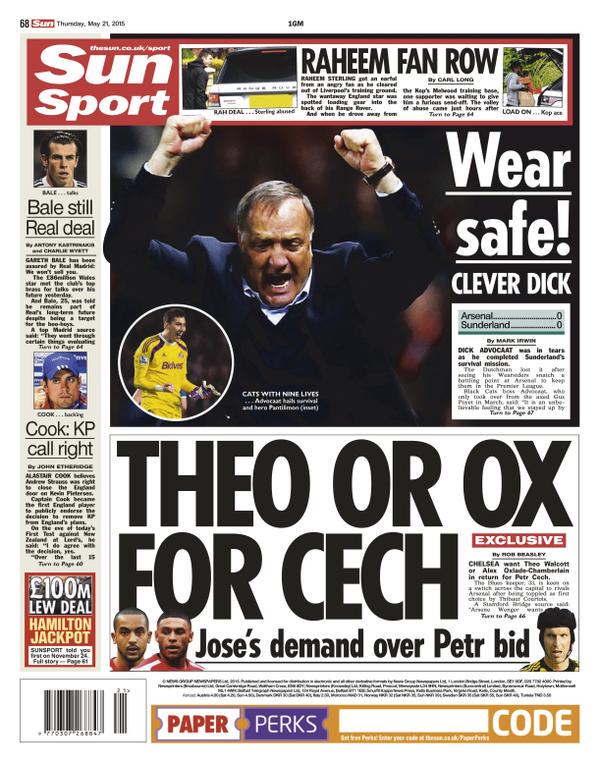 This is not the first time Chelsea have been linked with an interest in Theo and it was something we laughed at the first time it was mentioned.
If ever there was a player who was *not* a Jose Mourinho player, then it's Theo Waclott, a player who can't get in the Arsenal side because of his failure to contribute defensively. How on earth would he get into a Mourinho Chelsea team?
Then there's the Ox and it is clear why any side would want him but there is absolutely no way Arsenal would countenance letting him leave, especially not for Chelsea and if rumour has it correct, the Ox is one of a very few youngsters at the club who has an active interest in Arsenal and its history (a different matter after all).
He was, if I recollect correctly, the only member of the current squad to go along to the screening of the Invincibles documentary and is frequently talked about when ex-players speak of those who really do love the club.
Then you have the fact that it's highly unlikely that Arsenal are even going to try and sign a keeper this summer with Wenger saying he already has three world class keepers.
No need to sell, certainly no desire to sell to Mourinho and I'm pretty sure Arsene would sell Mourinho nothing even if it was the only way to save his life. Then again, I thought that about him and Ferguson…
It's a nice little story from the Sun, but that's all it is – a story – I'd bet my house on it.