Reigning European Champions Liverpool have overhauled struggling Arsenal's follower count on the major social media platforms, with the trend looking set to continue.
Their number of combined online followers has now shot past 69.06 million, leaving the Gunners behind on 69.04 million.
Data tracked by FootballPredictions.NET shows that the disparity in on-field results between these fellow Premier League clubs had been reflected for some time in a rapidly closing gap of combined Facebook, Instagram & Twitter fans.
The Reds' stunning Champions League semi-final second leg comeback against Barcelona at Anfield in May saw the northwest club add more than 1.2 million (1,279,734) new followers in a single week. To put that into perspective, it is more than the entire follower count of fellow Premier League club Burnley which has 1.14 million combined Twitter/Facebook/Instagram followers.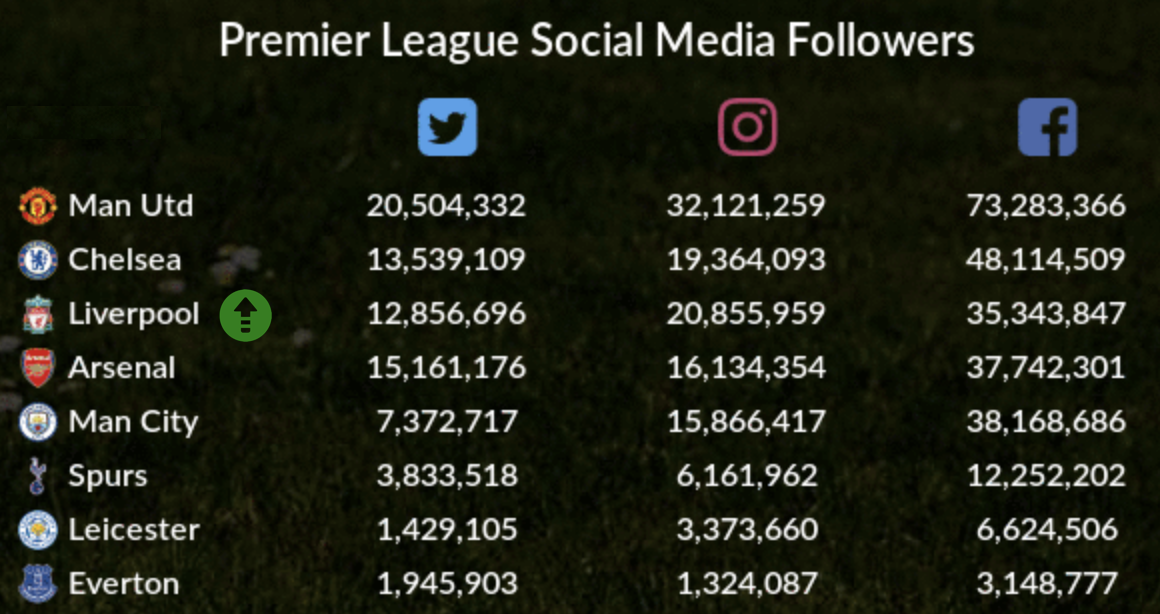 Liverpool's online popularity is likely to have been given a boost by some of the club's star players such as Egyptian forward Mohamed Salah. The diminutive winger has over 33 million Instagram followers of his own, which is an even larger amount than his club (LFC has 20.8 million on Instagram).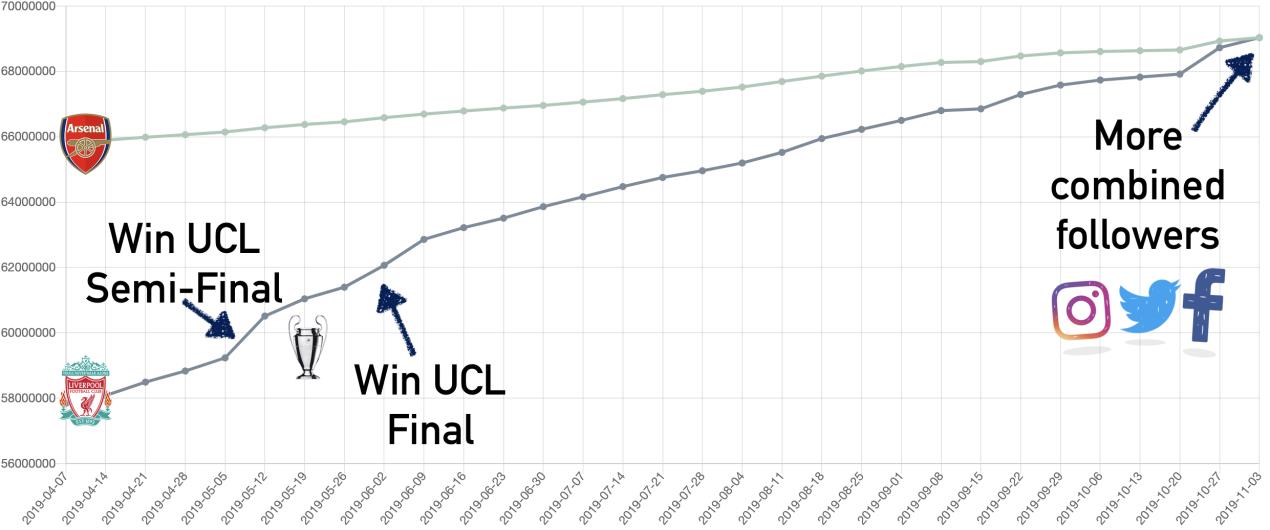 Arsenal doldrums
At first glance it doesn't appear to be all doom and gloom for the north London club despite dropping down a place in the social following table. After all, Arsenal still boasts more followers on Twitter and Facebook than the Reds.  However, in reality, the Gunners have actually lost over 26,000 Facebook followers in the last 12 months while Liverpool gained almost 3.2 million (3,178,280) fans on the same platform.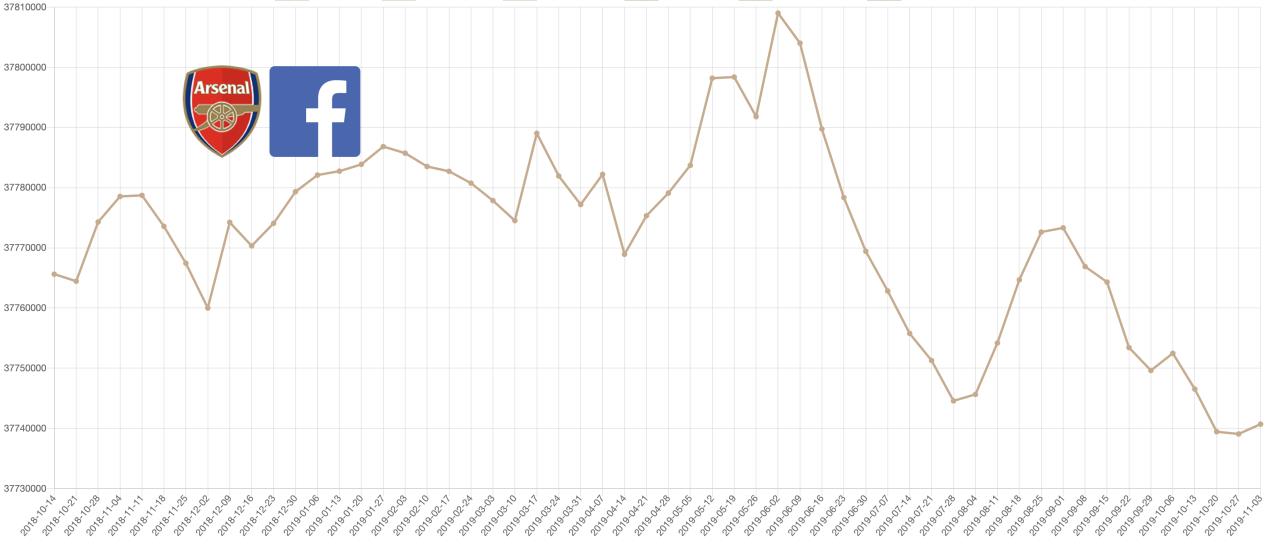 Arsenal drop points on Facebook as Liverpool soar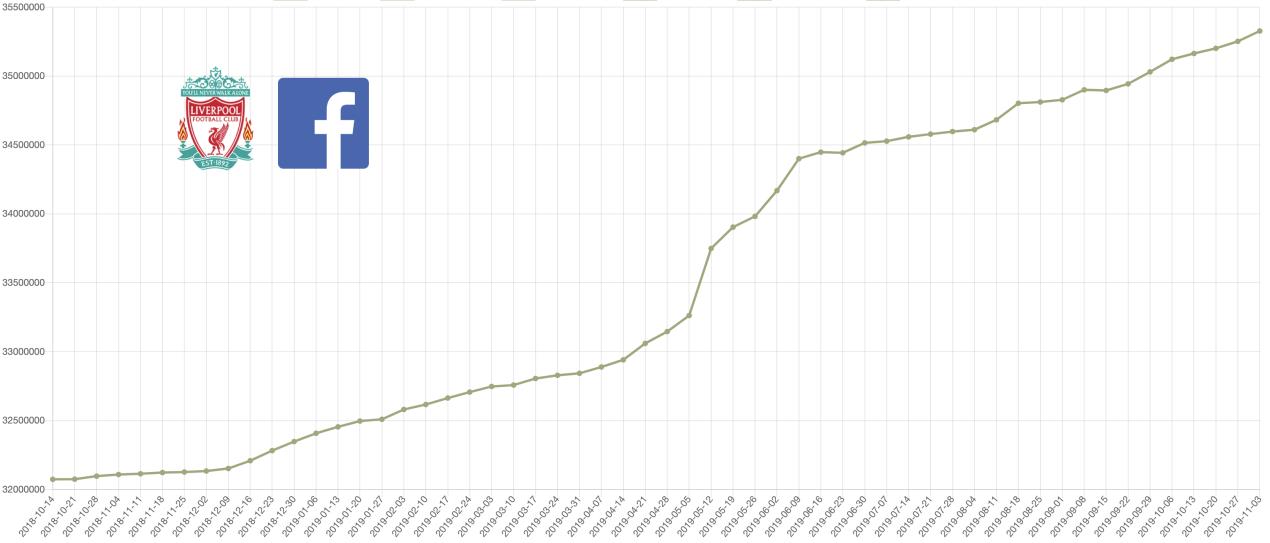 PSG in sight
The football clubs currently ahead of Liverpool on the global social rankings are Paris St Germain with 70.9 million combined followers (helped in no small part by the popularity of Messrs Neymar and Mbappe), Bayern Munich (73.2 million), the Ronaldo-propelled Juventus (80.7 million) and Chelsea (with almost 81 million followers).
Manchester United is the club at the next level with 125 million combined followers whereas Barcelona (213.3 million) and Real Madrid (223.7 million) are simply streets ahead of the chasing pack.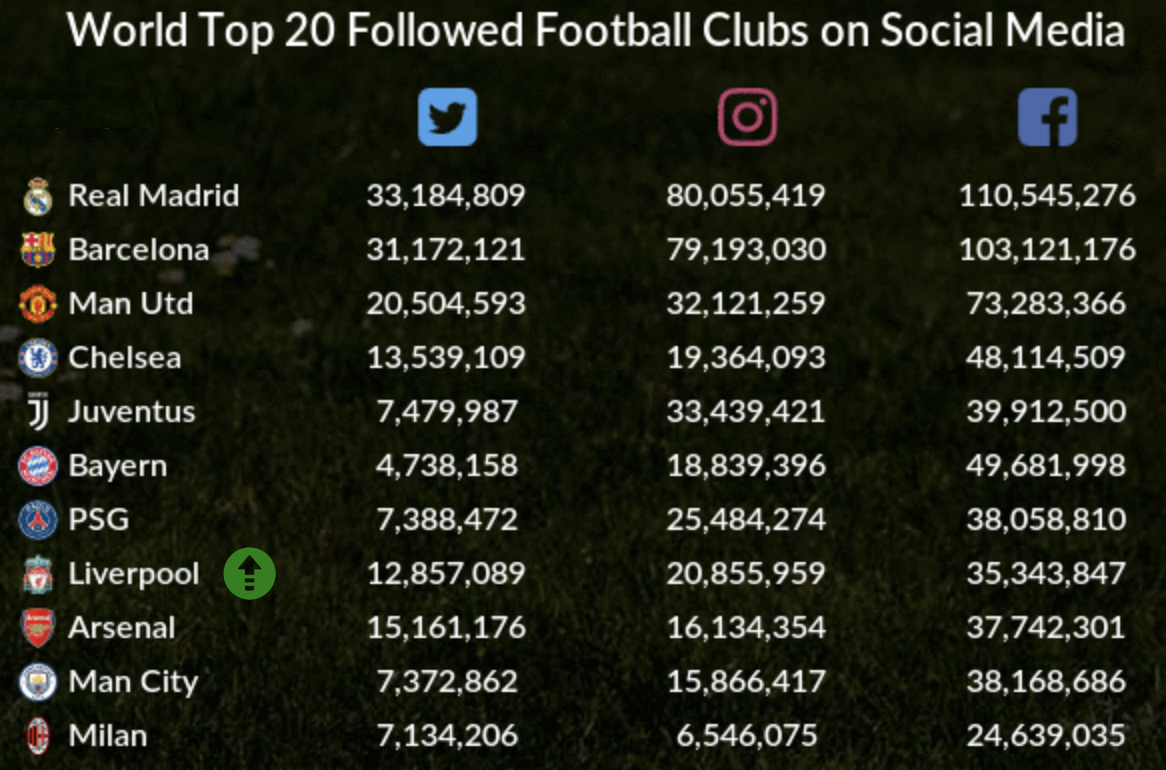 Premier League Followers in Real-Time:

(Source: Footballpredictions.net)