Player of the season for Arsenal seems a bit of an oxymoron after the campaign we've just witnessed and, to be honest, this article is going to reflect that.
If we go on just stats alone, Alex Oxlade-Chamberlain was Arsenal's best player of the season according to whoscored.com. Given that he wasn't even the best player in the only game he played for us, I think that tells us all we need to know about picking this just based on stats. Picking either of them won't win us anything at maxfreebets.co.uk/betting-sites/.
If you still aren't convinced, the player with the highest stats from those who played regularly was Shkodran Mustafi and he was so bad he won't be going to Russia this summer.
When I polled everyone at Daily Cannon about who they thought should be Arsenal's player of the season there was some debate, but not much.
While the likes of Mesut Ozil and Aaron Ramsey were mentioned, only one player received more votes than all the rest combined – Nacho Monreal.
He was also the only Arsenal player to make it into the whoscored.com Premier League side of the season with a season average of 7.13.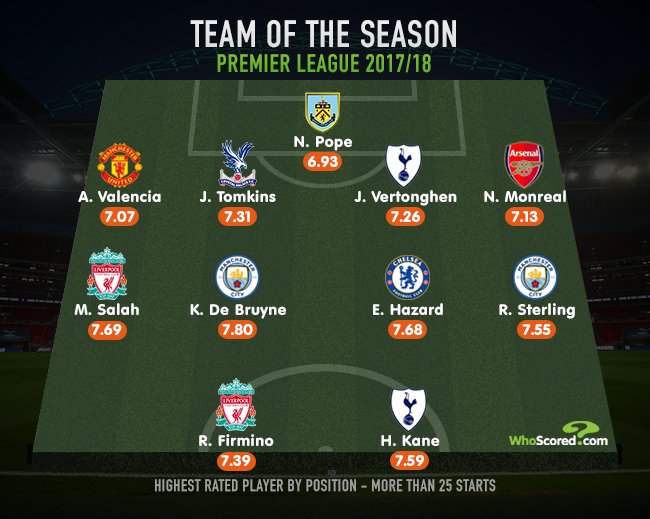 But, as we just discussed, stats don't tell even half the story of a footballer's season.
A player who finishes the season stronger than one who has faded away is more likely to pick up the end of season plaudits, but Nacho Monreal was neither of these.
In September, Monreal came in for some heavy criticism from Paul Merson ahead of the game against Chelsea. That was at a time when Monreal was still being shoehorned into the centreback slot while Sead Kolasinac seemed to have claimed the full-back position for himself with ease.
While pundits can often be harsh, and our own memories selective, I looked back at what we were saying around that time. "Even if Nacho hasn't been fantastic for the Gunners so far this campaign.." I wrote in the article covering Merson's comments.
He was, however, included in the European Team of the Month for September, so perhaps I know as little about football as Merse. Even my own podcast team would seem to agree given their first offering in October was entitled, 'We all live in a Nacho Monreal World'.
By the end of October, our own Dan Critchlow was calling him 'Arsenal's quiet hero' and he was named player of the month for October.
The end of the season saw the 32-year-old benched for Premier League games as we focused on the Europa League but only four of his last 10 appearances warranted a rating over seven. His lowest-rated game in that run against Atletico Madrid in the second leg – arguably Arsenal's biggest game of the season.
For me, it was at the turn of the year when Nacho did enough to lodge himself in the brains of supporters as a player who was having a great season. Two of his five goals came towards the end of January, as did his only two assists of the season.
If this seems like I'm trying to detract away from Nacho's decent season, I'm not. I don't intend to damn him with faint praise, but that is really the only sort that should be on offer to any Arsenal player after the 2017/18 season.
I just think it's indicative of how poor we were for the majority of the season that a full-back will be named as our player of the season for scoring five goals, four of which had no impact on the result whatsoever, while we conceded 51 league goals.