If there's one thing we can all agree on it's that Arsenal battered Chelsea, so it's somewhat surprising to see Petr Cech, who faced only two on-target shots in 90 minutes, included in Garth Crooks BBC Team of the Week.
If that's strange, then the Sunday Mirror's decision to leave out all Arsenal players from their Team of the Week, is even weirder.
As I was travelling home on Sunday after being at the match, I picked up a copy of the Sunday Mirror which they give away free at Gatwick. It's been a while since I was flying home and picked up any of the tabloids with the excitement I had on Sunday, expecting to see a massive back page after Arsenal ended their Chelsea jinx in the most comprehensive fashion imaginable.
It was in the bin less than two minutes later, and that's only because it took me 115 seconds to find a recycling bin:
And here's the Mirror back page for Sunday #MUFC #AFC #MCFC #LCFC #CFC pic.twitter.com/eN3cCXhX1i

— Mirror Football (@MirrorFootball) September 24, 2016
It wasn't until I got back to Cannon Towers that I realised, had I opened the paper, I'd probably have set fire to it, because this was their team of the week:
https://twitter.com/TFJtheMVP/status/780000596128591872
Then there was Garth Crook's team for the BBC.
Picked on a Sunday every week, despite matches being played on Sunday and Monday, the BBC man included Petr Cech who made one catch, one punch and one save against Chelsea. His opposite number, who conceded three from four shots on target in the first half, made double that number of saves.
I love to see Arsenal players in any TOTW, but including Arsenal's keeper makes it seem like Chelsea had us on the ropes, which we all know is just nonsense.
Crook explained Cech's inclusion by saying, "Last season, far too much emphasis was placed on Cech's arrival at the Emirates. There was an assumption that the title was a formality in what was otherwise thought to be a championship-winning team. A year later and, in an Arsenal side whose defence was unflappable against Chelsea, Cech can still produce the big saves when called upon.
"I've only ever seen one goalkeeper whose save turned a season and that was Peter Shilton in Brian Clough's 1977-78 Nottingham Forest title-winning team. His point-blank save from Coventry's Mick Ferguson was a turning point and was regarded as the moment that delivered Forest the championship.
"Cech is very capable of producing something similar which is just as well if you are serious about winning the title."
I think Garth was the only one making that assumption, because I don't know anyone else who was.
He did, however, include Laurent Koscielny, Hector Bellerin and Alexis Sanchez.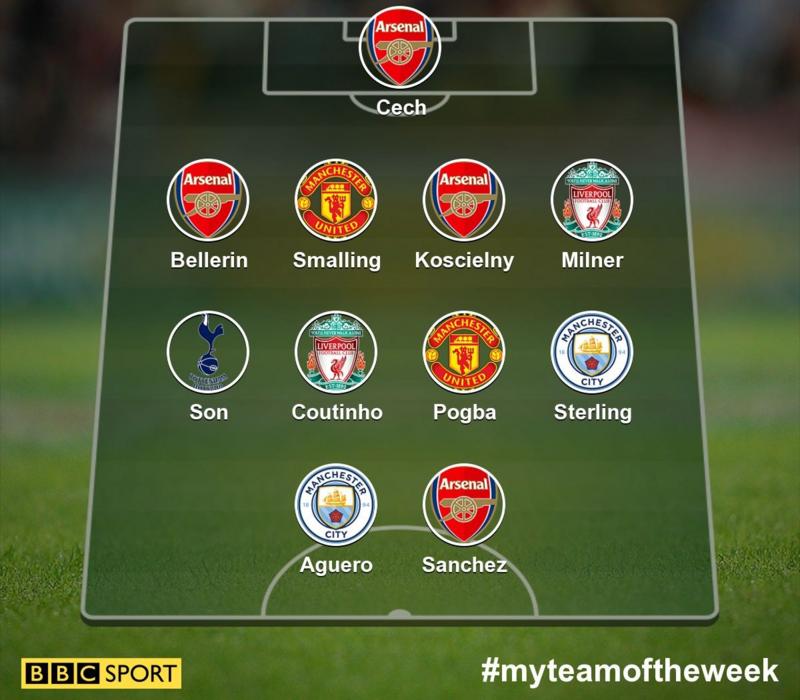 Other stupidness in Crook's TOTW included expressing an interest in how Jurgen Klopp will keep Philippe Coutinho fresh just one week after saying if Klopp puts Coutinho on the bench he'll 'destroy' him.'  Liverpool fans also pointed out that Crooks put James Milner in the side at left-back because 'he earned it for sure' despite playing at left wing for 89 minutes.
Spurs fans seemed rather miffed by Crook's assertion that eyebrows were raised when they sold Chadli and kept Son, while United fans couldn't understand why he'd selected Smalling over Blind.
Great work as always, Garth.