by Nia Griffiths
Freddie Ljungberg has spoken recently about Arsenal's need to strengthen and he has one name in mind who he specifically thinks would help us.
Winger Ljungberg was a crucial part of the Invincibles team and played for Arsenal for the majority of his footballing career. In the end, he'd featured 317 times for us, scoring 71 goals.
The Swede only retired from football in 2014 after making four appearances for Mumbai City.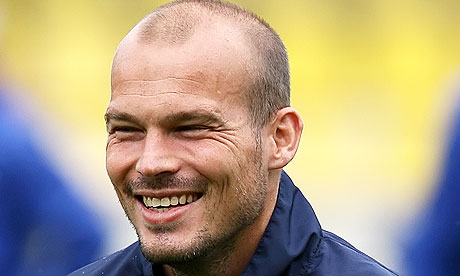 Speaking about the current Arsenal team recently, he said, "I think the players who are already there are great, but for me I want to see speed."
He did go on, however, to mentioned a player he thinks we should look at, "There were some rumours about Vidal, a great player, and he gets fuming if he loses the ball, so I like that. That kind of player would be great for the club."
We've been very quick on the site to dismiss Arturo Vidal gossip as we have it on good authority that he won't be signing and that we have no interest in the player at all. However, rumours were put to a complete stop yesterday by the BBC's David Ornstein, who also brought us the news that Petr Cech was having his medical on Friday, not this week as some suggested.
Ljungberg went on to praise Alexis Sanchez, a player he noticed a long time ago saying, "Look at Sanchez. After the World Cup in South Africa I said I wanted us to buy him, when he was at Udinese. He is quality but he also works hard as well. He has speed. When he loses the ball he still fights for it and that's what I like to see."
However, despite the progress we've made, the winger doesn't believe we'll truly challenge for the title for another couple of seasons.
"I think in one or two years we'll have a squad that's going to compete with anyone. With one or two signings here and there, we can get a stronger squad. We're getting there and I'm really looking forward to the next couple of years. If we go the way we've been going then we'll compete on the same level (with the likes of Chelsea and Manchester City)."