Arsene Wenger is proposing that football authorities stop being idiots with VAR and eliminate the marginal offside calls that are so far from clear and obvious they may as well be a lump of coal in a black coat out for a late-night stroll along an unlit country road.
Arsene Wenger wants the offside rule, when used with VAR to make more sense. Instead of punishing a player for being a little bit offside, Wenger wants to reverse that so if a part of him that can score is in line with the defender, he is ruled on.
"You will be not offside if any part of the body that can score a goal is in line with the last defender, even if other parts of the attacker's body are in front.
"That will sort it out and you will no longer have decisions about a fraction of the attacker being in front of the defensive line."
Technically, this should be the rule anyway. You shouldn't be offside for a fingertip because you can't score a legal goal with your hands.
Sir Arsène Wenger – Football's Saviour. pic.twitter.com/hWTqB0Puyc

— ∞ (@TheFalseNein) February 18, 2020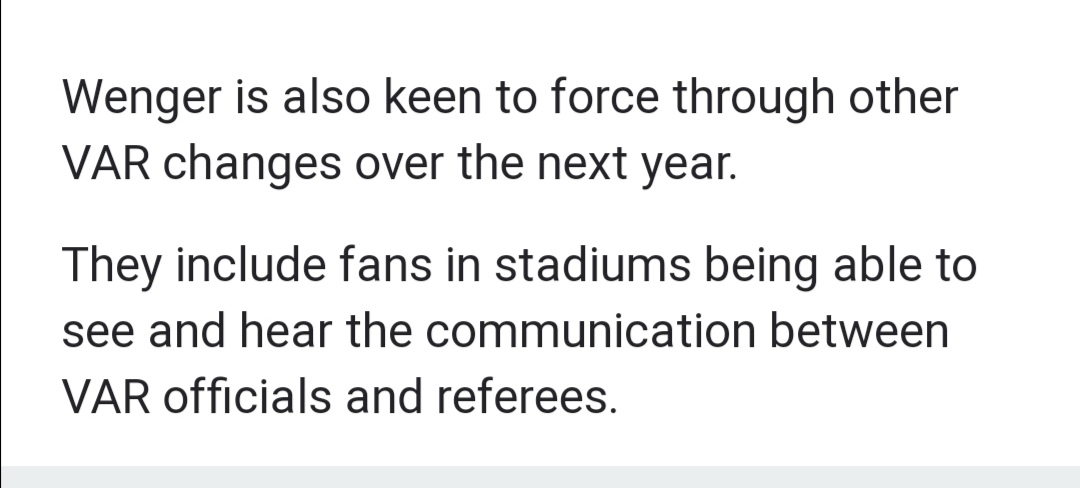 But, as we've seen repeatedly in the Premier League this season, you can quite clearly kick another player, on purpose, in the balls, but if your bootlace is ahead of the defender, then VAR's all over you.
Arsene Wenger, who now serves as FIFA's Head of Global Development and will one day, I'm sure of it, be President of FIFA, will bring up the proposal at the International Football Association Board's AGM in Belfast on February 29.
I expect him to get his way.