Well, that was alright, wasn't it?
I had written before that whilst there was still even an outside chance for Arsenal in this season's Champions League, there was still a chance. Okay, that was the very definition of stating the bleeding obvious, but outside London, N5 I'm not sure too many people thought we had even a glimmer of a chance against Bayern Munich.
But we did it. Or, as our own Anita Sambol put it: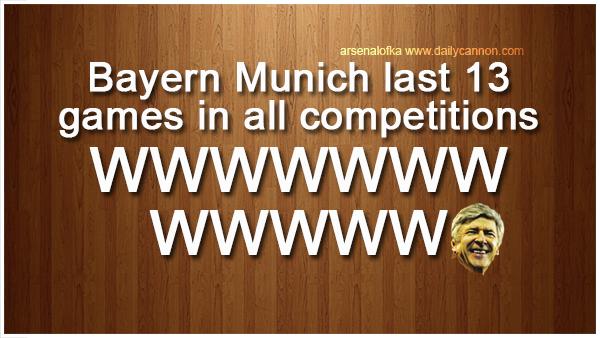 The Bundesliga champions have been imperious this season, opening both domestic and European campaigns in lethal form. On Tuesday, though, they couldn't find their way through the defence expertly marshalled by our own German, the big f'ckin' one. When they did, they discovered that the difference between Arsenal with an average goalkeeper and Arsenal with a proper one is night and day.
Not that, after Manuel Neuer's seen to be believed save from Theo Walcott, they wouldn't already be aware of the benefits of a great keeper.
Doesn't it seem incredible to you now that people were questioning the purchase of a Chelsea "cast off"? Of course, calling Cech that totally ignored the fact that it was actually Cech who cast Chelsea off. In doing so, he left Mourinho the unhappy one. Perhaps that why Mourinho cries into his pillow every night, visions of Arsène strafing his nightmares like Alexis Sanchez thunderbolts.
I digress.
Point being, Petr Cech was an impassable barrier on Tuesday night. I think Neuer was marginally the busier keeper, adding a good save from Özil to the aforementioned "worldie" from Walcott. However, when called upon Cech made the saves, the difference, he was signed to make. To me, the Czech has quietly imposed a feeling of calm authority as our last line of defence.
Watching the Watford game on Saturday night, I suddenly realised that I was totally relaxed about the prospect of Arsenal defending a corner or free kick. These are the very things that used to give us palpitations, but Cech has, with the exception of the opening day, rendered such traumas a distant memory. I think he's the best goalkeeper we've had since peak era David Seaman. His imposing frame reminds me of ol' "Safe Hands" too. If somebody had told you three weeks ago that we would beat both Manchester United and Bayern in successive home games, without conceding a goal, would you have believed them? Yet, we've done it.
At the other end of the pitch, Theo Walcott had one of his "not quite" nights in front of goal. However, it was another night when we saw the benefit of his pace on the counter. A constant out ball for Cazorla and Özil, we were able to turn defence into attack in the blink of an eye. If it didn't quite happen for him, then the speed of our transitions was something to behold and, I think, was a constant source of discomfort for the Bayern defence.
As on Saturday, in his eventual replacement with the matchwinning supersub, Giroud, we saw the benefits of having two strikers who can offer totally different things. As well as getting a free kick past the first man. Whisper it, but I reckon Theo's perpetuum mobile might have softened the Bayern defence up for Oli.
Speaking of whom, the Frenchman is becoming quite the fabled "Plan B", isn't he? Able to come on and impose himself on tired defenders in a way he doesn't always manage from the start of games, he may just have scored the biggest goal of Arsenal's season so far last night. It would take the hardest of hearts not to have been absolutely delighted for him, particularly when he is constantly criticised for not delivering in the big games (even though he does).
I guess, the moment most of us will have taken away from the game was Héctor Bellerín's blistering burst, half the length of the pitch, to set up Mesut Özil's second goal. A goal with which the German could banish memories of his missed penalty a couple of years back forever. He ran half the length of the pitch in 7 seconds, taking 4 touches on the way. Remember this was in injury time of a game where Arsenal had had to defend, if not heroically, then certainly with much concentration and discipline throughout. Yet Bellerín had the presence of mind, not to mention the audacity, to sniff out a chance and go for the second goal.
https://www.youtube.com/watch?v=BVNwaL0HS3c
I hope Arsenal have got this boy tied down to a long term contract, because it surely won't be long before Barcelona come calling for Héctor. He has come such a long way over the last twelve months, it's mad to think he hasn't yet played 50 games for us. The ghost of Fàbregas rears his head again. The difference now, I think, is that for the first time in a decade the boss has built a squad which can win the big prizes. Why go? Laughably, Bellerín has got 5/10 in more than a couple of papers today, as if he's the first full back to have ever bought a step over.
The hope now for Arsenal is that nights like last night can become the norm rather than an exception and, of course, that we can cut out the carelessness which has blighted our European campaign this season. I think pundits, opposition fans also, don't quite take Arsenal seriously because of our famed propensity for discharging 45 gauge shotguns into our metatarsals (noughties reference).
It's understandable, but we are a good team. A very good team, in fact. The way the commentators yesterday, particularly Owen Hargreaves – a former Bayern player, obviously – were talking about Bayern reminded me of Bill Hicks talking about Iraq's "Elite Republican Guard" (nineties reference). Or, at least, Bill Hicks talking about the American media's coverage of the republican guard.
https://www.youtube.com/watch?v=KWdxV8JRnUQ
Here was this Bayern team, never lost a battle, with Neuer the impassable last line of defence and Lewandowski getting ready to punch holes in our own rearguard. We should have been cowering in fear at their might.
Actually, it turns out, Bayern are just a football team. Just like Arsenal are. Don't get me wrong, they're clearly a very good one, but not quite the Bavarian bogeymen they were made out to be.
Who'd have thought it?
Clearly, the possibility still remains that we will be subjected to a Bavarian battering in a few weeks time. I wouldn't put it past Bayern, but it wouldn't change the fact that they are only a football team. I think though, with this win behind us and fresh life breathed into the Champions League campaign, we can go there knowing that a repeat performance from last night will give us an excellent chance to progress.
After all, if we can beat Bayern Munich, who can't we beat?