by Nia Griffiths
Just when you thought the Ilkay Gundogan to Arsenal rumours had ceased to exist, the cheeky lad throws a spanner in the works.
The midfielder signed a new contract with Borussia Dortmund at the beginning on July, supposedly putting an end to any speculation that he was moving away from the Bundesliga team. However, now new quotes have emerged directly from the 24-year-old hinting that he could still be on his way out of the team…
"You can always see from two different perspectives," he said. "Some will say, okay, he has extended, and if he should go next year, the club will therefore still get a lot of money. So it's all good. And others say: Again, it's only one year."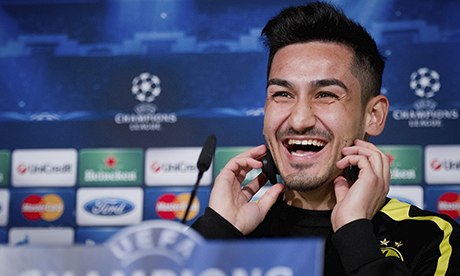 He German continued, "Everyone has to form his own opinion – I just want to be honest. I appreciate this wonderful club very much, but my life plan also looks at some time with a new challenge."
The quotes seem to be deliberately inflammatory and a little strange. I know if it was one of our players saying things like this after just signing another contract with us, we'd be all up in arms about it.
Although Arsenal have their fair share of advanced midfielders to pick from, playing someone like Gundogan in a deeper role wouldn't be completely unheard of and we all know that we're in the market for a defensive midfielder. However, after signing a two year contract extension, his price is likely to be high.
Probably too high for Arsene Wenger to justify.