He's lazy.
He's a shirker who's nicking a living.
Pretty big labels for a player who has five assists in his last 12 games (Eden 'Golden boy' Hazard has six in his last 26) and who was in the top eight for players who covered the most ground this weekend and made the most sprints. A group, it should be noted, that had only one player who started a midweek match.
That player? Mesut Ozil.
On Sunday Arsenal defeated Everton by two goals and [inlinetweet prefix="" tweeter="" suffix=""]Ozil collected both of the assists yet there are many who are debating his worth[/inlinetweet], his 'problems' and whether he's worth his £42.5m price tag.
It's all so tedious.
A player who already ranks in third place on the 'All-time Premier League assist-maker-per-minute list' divides the Arsenal fanbase like no other at the minute, half of them [inlinetweet prefix="" tweeter="" suffix="null"]egged on by a press that is quick to jump to conclusions and who then bend facts to fit them.[/inlinetweet]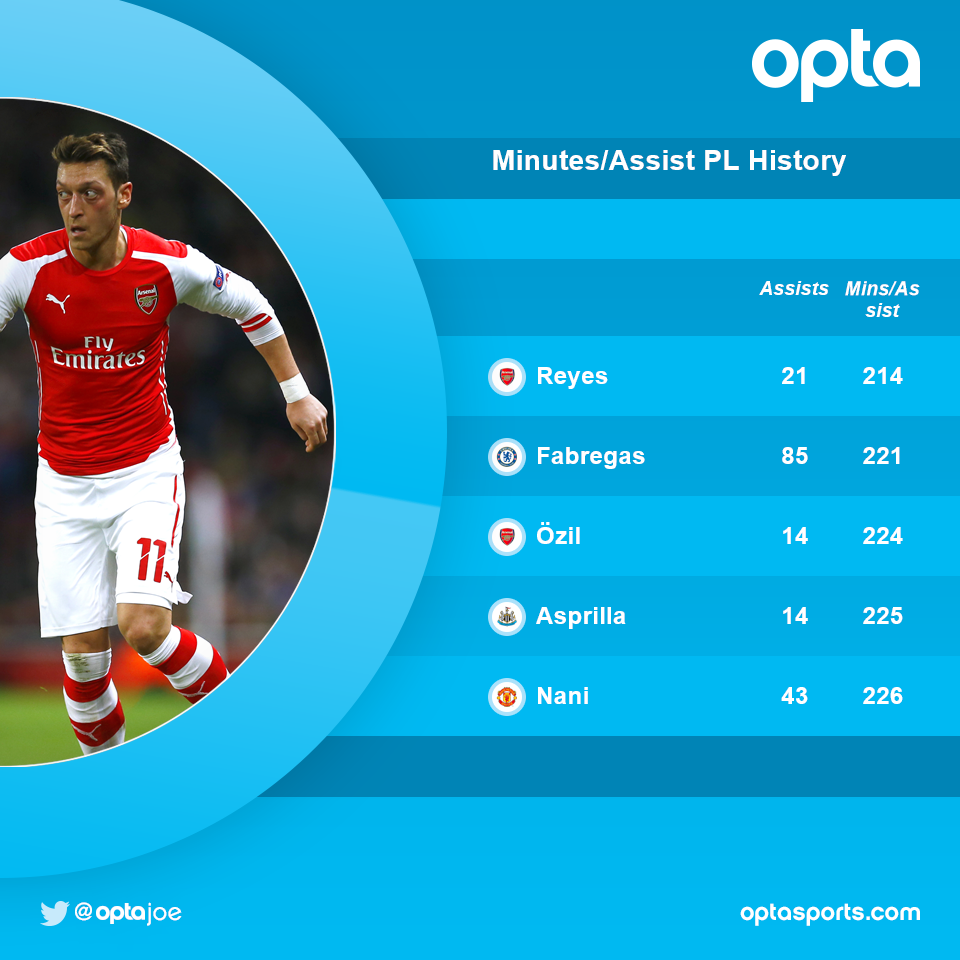 It's called 'confirmation bias' and we're all capable of it.
We make up our minds and, from that point on, we only see the things that confirm our belief, not anything which proves it wrong.
No-one likes to be proven wrong.
Watch a football match in which Ozil features and you likely won't notice much from him.
I called him a 'silent assassin' in a piece I did not that long ago.
Distracted by everything else that is happening, it's easy to miss Ozil as he slinks around the pitch, creating the (false) impression that he's doing little.
But put a player-cam on and watch only him and you will soon see a very different picture, one of a player always aware, always looking, always alert. One who creates space for himself and others with ease and picks out a pass most others don't see.
Ozil doesn't run through brickwalls like Alexis Sanchez or Danny Welbeck and we live in a society that puts value on action. We can be mistrustful of those who seem to find things too easy and wonder why they don't work harder even when they don't need to.
Leaving aside the stats that I mentioned when I opened, that Ozil runs and works just as hard (if not harder) than most other players in the league, why should he run around like a maniac on the pitch for his efforts to be appreciated?
[inlinetweet prefix="null" tweeter="null" suffix="null"]What is it about people who want harder, not smarter?[/inlinetweet]
Facts rarely tell the whole story, but if you want to know how much a player ran, how many sprints he made, how many assists or key passes he made to judge his effectiveness as part of a team, they stand out as the truth in between those fighting based on what their eyes see and their bias believes.
[inlinetweet prefix="null" tweeter="null" suffix="null"]Ozil's stats are all you need in this case.[/inlinetweet]
If you think he's lazy, useless or not worth the money Arsenal paid for him then you are wrong.
Totally and utterly wrong.
And probably a little bit stupid, too.