Arsenal struggle with injuries, it's pretty common knowledge.
It's a burden, it's an explanation of a barren spell in terms of trophies, and it's really really annoying. But what, exactly, is the most injured XI Arsène Wenger has had in the last 15 years?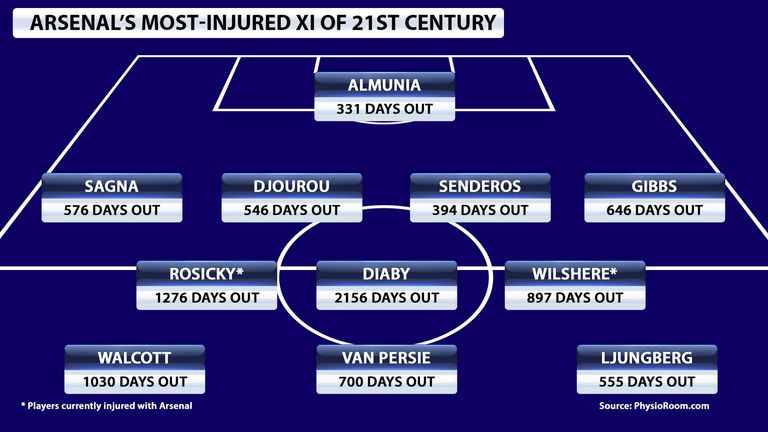 The frustrating thing is what a good side this is, it could seriously challenge for major honours. Here's some mentions for the more notable members of the side:
Despite spending almost 600 days sidelined, Bacary Sagna managed 284 appearances across seven seasons in north London. The brilliant defender played at least 40 games in five of those seasons, featuring in 29 and 31 (all competitions) in the other two.
Tomas Rosicky and Jack Wilshere have amassed an incredible 2173 days out combined, which amazingly only just pips Abou Diary's 2156 days out of action. Scarily Wilshere is still injured and just 23 years of age; if he isn't injury prone then I don't know who is.
Approaching 10 years at the club, Theo Walcott has managed 76 in goals in an Arsenal shirt so far. If he can stay fit he will surely break the 100 mark this or next season.
Robin van Persie did break the 100 barrier, and did so as Arsenal captain. His last 18 months at the club was his only extended run without an injury and, though he left acrimoniously, the Dutchman could have been one of the true Arsenal greats had he stayed fit more often.